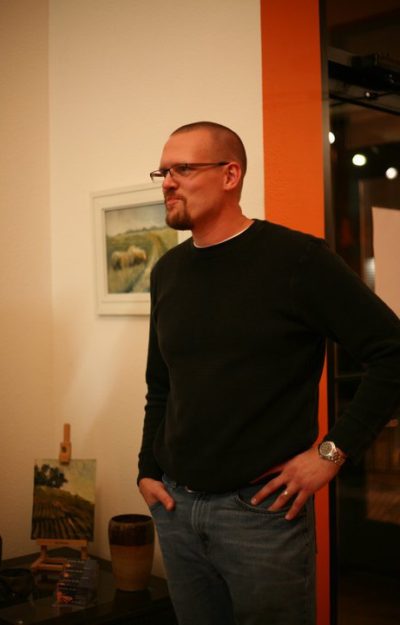 Born 1977 in Fargo, ND.
Resides and creates in Moorhead, MN.
Grady is fascinated with the process of making art, especially starting with a kernel of an idea and letting it evolve. He loves the journey that happens on the inside as much as what people see on the outside. For Carlson, it's about problem solving, the creative process, and using his imagination. After becoming a practicing professional artist, he began to look at the world in a different way. His artwork is a reflection of his life challenges, life encounters, and life thoughts. Carlson strives to personally connect with all his art, and he enjoys thinking about the relationship that the owners of his work experience. Carlson has been a member of the Fargo Moorhead Visual Artists (FMVA) since 2011. In 2016, Carlson was selected to have three paintings exhibited at US Bank Stadium in Minneapolis, MN. Carlson's works are now found in private, public, and permanent art collections throughout the upper midwest region, nationwide, and internationally.
BS Art Education, 1995-2000 Minnesota State University School of Visual Arts,  Moorhead, MN
Masters in Education, 2012-2014 Concordia University St. Paul, St. Paul, MN
2020 September 28, People Magazine, "Happy to be back in the classroom"
2019 February The Arts Partnership, "Piece of home: John Deere representative commemorates her time in Fargo with art"
2016 September The FM Extra, "Studio Crawl offers the chance to peek over local artists' shoulders"
2016 August 24, The Forum of Fargo-Moorhead, "Moorhead artist tours stadium, unveils paintings"
2016 Vikings Art Collection Book; "U.S. Bank Stadium"
2015 Monday, December 21, The Forum of Fargo-Moorhead, "Making a Scene: Minnesota Roots, Stadium Presence"
2012 Home Show Issue Outdoor Design & Living Guide, "Home is Where the Art is: Artist Profile"
2010 Spring Arts Pulse, "Pied Pipers"
2008 December/January From House to Home, "Signature Artist"
2020 Epic Group Art Show Selection, West Fargo, ND
2019 Block E Artist Selection, Moorhead, MN
2017 Nichole's Fine Pastries Purchase Prize, Fargo, ND
2016 U.S. Bank Stadium Artist Selection, Minneapolis, MN
2014 Merit Award, Hawley Art Show, Hawley, MN
2011 Honorable Mention, Bismarck Art & Galleries Association Fall Art Show, "Autumn Artistry", Bismarck, ND
2011 Bismarck State College Elsa Forde Gallery Selection, Bismarck Art & Galleries Association Fall Art Show, "Autumn Artistry", Bismarck, ND
2009 Honorable Mention, Bismarck Art & Galleries Association Fall Art Show, Bismarck, ND
2009 University of Mary Clairmont Center Gallery Selection, Bismarck Art & Galleries Association Fall Art Show, Bismarck, ND
2009 Bismarck State College Elsa Forde Gallery Selection, Bismarck Art & Galleries Association Fall Art Show, Bismarck, ND
2008 Best of Show, Forty-First Annual Hawley Art Show, Hawley, MN
2021 The BIG Art Show, Hjemkomst Center, Moorhead, MN
2020 1st Annual Epic Group Art Show, The Lights, West Fargo, ND
2020 FMVA Studio Crawl Preview Exhibit, Plains Art Museum, Fargo, ND
2020 FMVA 17th Annual Studio Crawl, Pine Tar Studio, Moorhead, MN
2019 Block E Permanent Collection, Downtown Moorhead Modern Apartments & Commercial Space, Moorhead, MN

2019 MSUM Alumni Exhibition, Minnesota State University Moorhead, Moorhead, MN

2019 FMVA Studio Crawl Preview Exhibit, Plains Art Museum, Fargo, ND
2019 FMVA 16th Annual Studio Crawl, Pine Tar Studio, Moorhead, MN
2018 Annual Square Foot Show, Bismarck Art & Galleries Association, Bismarck, ND
2018 Art Educators' Exhibition, Memorial Union Gallery at North Dakota State University, Fargo, ND
2017 Nichole's Fine Pastries, Fargo, ND
2016 FMVA's 13th Annual Studio Crawl, Pine Tar Studio, Moorhead, MN
2016 FMVA Studio Crawl Preview Exhibit, Plains Art Museum, Fargo, ND
2016 Fourth Annual Art Educator's Exhibit, Rourke Art Museum, Moorhead, MN
2016 Minnesota Vikings Art Collection, U.S. Bank Stadium, Minneapolis, MN
2016 The BIG Art Show, Hjemkomst Center, Moorhead, MN
2015 Sticksgarden (sticksgarden.com), Permanent Outdoor Exhibit, Moorhead, MN
2015 Annual Square Foot Show, Bismarck Art & Galleries Association, Bismarck, ND
2015 Fifty-Sixth Annual Midwestern Invitational Exhibition of Fine Art, "From the Earth to the Moon", Moorhead, MN
2014 Lake Region Arts Council Artist Resource Fair Exhibition, Fergus Falls, MN
2014 "Lincolns and Landscapes and Crows, Oh My", (Solo), Bismarck Art & Galleries Association, Bismarck, ND
2014 Forty-Seventh Annual Hawley Art Show, Hawley, MN
2014 Eighteenth Annual Spring Gala, "Optical Illusions", Plains Art Museum, Fargo, ND
2014 Fifty-Fifth Annual Midwestern Invitational Exhibition of Fine Art, "Lost and Found", Rourke Art Museum, Moorhead, MN
2013 Annual Square Foot Show, Bismarck Art & Galleries Association, Bismarck, ND
2013 Seventeenth Annual Spring Gala, "15 Minutes of Fame", Plains Art Museum, Fargo, ND
2013 Midwestern Invitational Exhibition of Fine Art, "Signed, Sealed, Delivered", Rourke Art Museum, Moorhead, MN
2012 FMVA's 9th Annual Studio Crawl, Pine Tar Studio, Moorhead, MN
2012 FMVA Studio Crawl Preview Exhibit, Plains Art Museum, Fargo, ND
2012 "What Those Who Teach Can Do", The Art Institutes International Minnesota, Minneapolis, MN
2012 The Little Art Show, Essentia Health, Fargo, ND
2012 Sixteenth Annual Spring Gala, "Hang on to Your Hats", Plains Art Museum, Fargo, ND
2012 The Great Winter Crow Show, Spirit Room Gallery, Fargo, ND
2012 Habitat for Humanity ReStore Recycled Art Show and Auction, Spirit Room Gallery, Fargo, ND
2011 Bismarck State College Elsa Forde Gallery, Bismarck, ND
2011 Fall Art Show, "Autumn Artistry", Bismarck Art & Galleries Association, Bismarck, ND
2011 FMVA's 8th Annual Studio Crawl, Pine Tar Studio, Moorhead, MN
2011 FMVA Studio Crawl Preview Exhibit, Plains Art Museum, Fargo, ND
2011 The BIG Art Show, Hjemkomst Center, Moorhead, MN
2011 Habitat for Humanity ReStore Recycled Art Show and Auction, Spirit Room Gallery, Fargo, ND
2011 "Tribute to Jasper", (Solo), The Winery, Fargo, ND
2011 Fifteenth Annual Spring Gala, "Masterpiece Masquerade", Plains Art Museum, Fargo, ND
2010 "Vanishing America", (Solo), Gallery 14, Fargo, ND
2012 Fourteenth Annual Spring Gala, "Ordinary to Extraordinary", Plains Art Museum, Fargo, ND
2009 Bismarck State College Elsa Forde Gallery, Bismarck, ND
2009 University of Mary Clairmont Center Gallery, Bismarck, ND
2009 Fall Art Show, Bismarck Art & Galleries Association, Bismarck, ND
2009 Thirteenth Annual Spring Gala, "The Art of the Guitar: A Luthier's Renaissance", Plains Art Museum, Fargo, ND
2008 "From Hadley with Love", (Solo), Fireside Art Gallery, Fargo, ND
2008 "Honest Abe", (Solo), Gallery 13, Fargo, ND
2008 Forty-First Annual Hawley Art Show, Hawley, MN
2007, "My American Cousins", (Solo), Spirit Room Gallery, Fargo, ND